AyushEHR vs AyurEHR vs Ayurlive Hospital – A perspective on choosing the right Ayurveda clinical software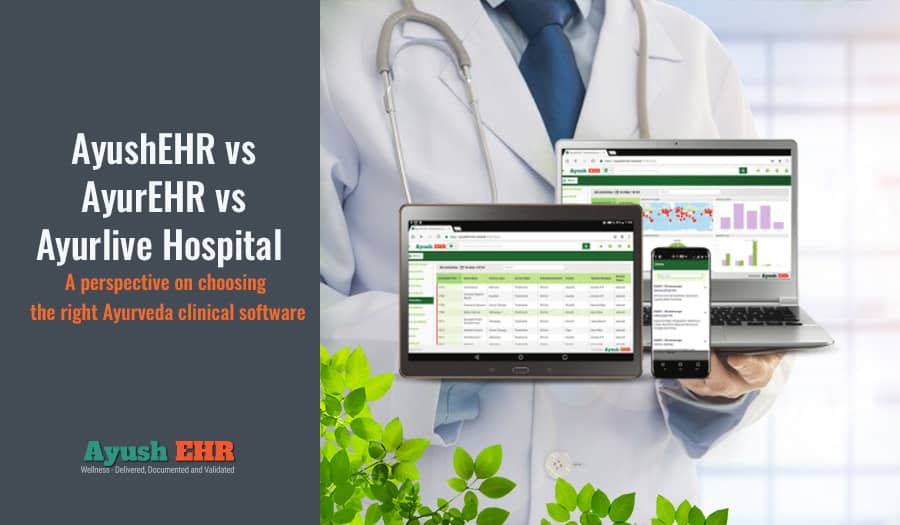 Here is a look at some popular softwares that promote adoption of modern technology such as EHR in Ayurveda. AyushEHR, AyurEHR and Ayurlive Hospital are softwares that cater to various operational needs of ayurvedic resorts and hospitals. They are all widely used, but let's find out what makes them different from each other.
Overview
AyushEHR: AyushEHR a product of HealtheLife, a standards compliant cloud-based EHR software built for the delivery, documentation and validation of AYUSH Services.
AyurEHR: Is also a cloud-based hospital management software for Ayurveda by eRx Solutions. It is built in collaboration with some Ayurveda Center to address patients and management needs.
Ayurlive Hospital: A product of TouchQ Solutions. Ayurlive Hospital is an Ayurveda Hospital Management Software, developed to manage the day-to-day activities of any Ayurveda institution or establishment.
The Benefits
AyushEHR: This software is developed by experts in clinical informatics with national and international experience . After a thorough analysis and scrutiny of various internationally available EHR software, AyushEHR has been created complying to Indian & international EHR standards. The focus has been on the Ayurveda practitioners, unlike other EHR software that are difficult to work with by non-allopathic practitioners. The software emphasizes on the use of technology to uplift Indian traditional healthcare practices. AyushEHR places the patient at the centre of care and empowers practitioners with tools to provide a personalized care experience as per the true Ayurveda tradition. It aims to create documentation during the care process to validate Ayurveda practices to improve it's acceptability & adoption.
AyurEHR: AyurEHR offers to provide a seamless experience to both patients and management by following the three P's of healthcare, i.e. Patient, Process and Performance. It provides an integrated workflow and focuses mainly on the hospital management and administration process. Clinical documentation is mentioned as being easy & template driven and designed to help spent more time with the patient.
Ayurlive Hospital: This software helps in the management of your Ayurveda institution using its various modules like, registration, stock or inventory and therapist management. It claims to be simple and user-friendly. This software is installed on premise and accessed through the hospital computer network.
Unique Features
AyushEHR: AyushEHR has strikingly rich & amazing features meant exclusively to serve an Ayurveda establishment. For example, the institution may have 'x' number of staff and all of them can have their respective profile on the software. So, they can be addressed for an activity, by the concerned supervisor within the software. Hence, all the activities are easy to be tracked and maintained. AyushEHR checks all the boxes for achieving a complete seamless experience for the patients as well as the Ayurveda institution. Apart from it's exhaustive and standards compliant EHR module, the therapy planning and execution module, information gathering and sharing module, guest engagement module etc. makes it unique. Guest logins allow sharing of information to improve transparency and build trust of the patrons.
AyurEHR: AyurEHR is a software that emphasizes on features like: Patient Case Management, Therapy Schedule Management for being precise of their entire procedure, along with Hospital Management System for billing and registration. It is a cloud HIS focused on Ayurveda providers, with many of the standard ERP features. Being cloud based, it allows remote access from anywhere.
Ayurlive Hospital: The unique feature of this software is that it is built around the management and administration and include a variety of Hospital ERP modules such as therapist management, facility management, reservation, housekeeping, pharmacy, restaurant and electronic case file.
The Drawbacks
AyushEHR: As of 2018, AyushEHR is more focused on EHR than ERP. It is mostly about person centric EHR which is interoperable as mandated in the Indian EHR standards and to provide a personalized experience to the customers. . It lacks the many operational & administrative feature of purchasing, inventory, finance and marketing. The focus of AyushEHR is on the guest & care providers.
AyurEHR: AyurEHR focuses mainly on ERP. The clinical documentation is provider centric and does not comply with the Indian EHR standards to ensure sharing and interoperability of the data. The lack of terminology coding of clinical data limits the opportunity to do analysis, validation and improvement of treatments. The proposed electronic insurance claim submission and integration with Ayushman Bharat over the National Health Stack may involve changes to the existing software.
Ayurlive Hospital: Though the software has the early starter advantage and is popular, it has its own set of disadvantages. Like AyurEHR, it is mainly a hospital ERP and so it has less stress on the clinical documentation and patient focus. Being an onsite software, it also has higher initial software investment. It also fails to qualify for a highly complex multi-location, always accessible operations as it is not a cloud based ERP system. The clinical system is not an EHR and so will suffer from all the drawbacks that AyurEHR has.
Conclusion
Though all these software propose to be Ayurveda centric and multifaceted, they are focused on different requirements of various Ayurvedic practices. While AyurEHR or Ayurlive Hospital are basically hospital management software with focus on the ERP component in their system, AyushEHR is dedicated to healthcare and wellness. It helps in more collaborative treatments of patients with continuous monitoring. It is also future proof and comply with the Indian EHR standards for transferring and receiving EHR data from other systems. With it's stress on computable and patient focused clinical data, AyushEHR enables the scientific documentation, analysis & validation of Ayurveda practices, which is crucial for a wider adoption and acceptance of traditional Indian healthcare practices. AyushEHR meets all requirements for providing outcome focused care that an Ayurveda medical institution requires, with much ease.
Web URLs: