Bringing Ayurveda to the 21st century – the challenge, opportunity & software tools to help all those who are trying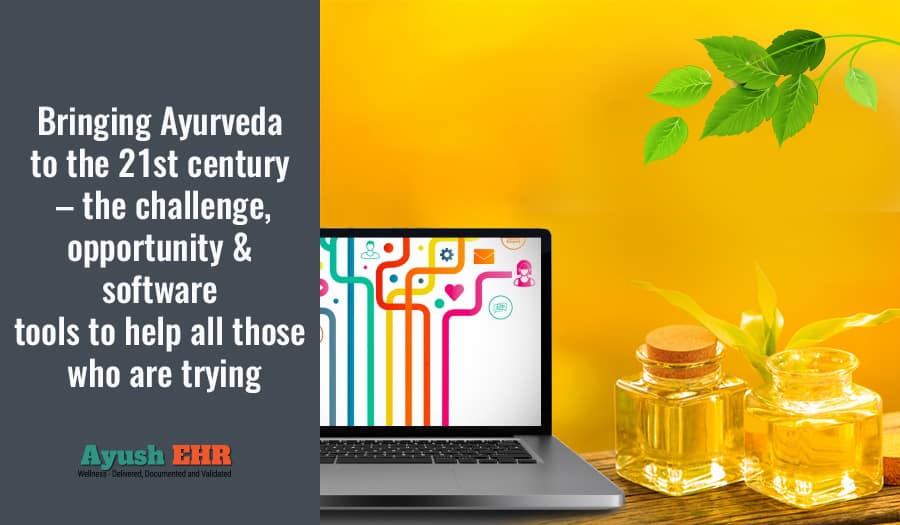 We are frequently reminded that change is the only constant. Ayurveda is probably one of the very few science domains that has withstood the test of time for more than 5000 years of its existence. It is still attracting people all around the world, some to seek cure, some to learn its history and some to understand the science of cure itself.
How did Ayurveda stand the test of time?
The uninterrupted live practice and passing of knowledge from one generation to the next, is what enabled this medical science to survive and flourish even during the dominance of modern medicine. Withstanding the brutal trial of submersion during the Mughal and subsequent British rule in India, where medicine was viewed simply as a biological phenomenon caused by external organisms instead of the Ayurveda way of emphasizing on the patients dosha's. Claims of western superiority and scientific authority sidelined native healthcare practices such as Ayurveda and western medicine was given the status of official medicine. Despite all the odds, the well documented science of Ayurveda held on, only to be liberated and popularized once again post the Indian Independence. Nonetheless, Ayurveda still faces various challenges in the modern era, having lost a lot ground even in India, where it originated
What's the modern challenge faced by Ayurveda?
The biggest challenge faced by Ayurveda now is the lack of continuous documented validation. Unlike the western medicine where the complaints, its diagnosis, and treatments are recorded and validated to prove or disprove treatment procedures, Ayurveda still depends on the lineage and the old sacred texts. There was neither a body nor any effort to document the details and convert to statistical models which are evidential and empirical. It was not until, in 2013, the Confederation of Ayurveda Renaissance Keralam Ltd or CARe Keralam initiated the process of identifying 20 popular formulations for scientific validation, that any effort was made to build a scientific validation for Ayurveda. Later in 2018 an agreement was signed between IIT Delhi and AIIA (All India Institute of Ayurveda) to give scientific validation and integrate it with technology.
How can Ayurveda be Validated?
Validation of treatment or procedure is through data capture, it's analysis and documentation. Every metric is to be carefully crafted to capture the essence of treatment in a global scenario. Irrespective of the location and the doctor, the data must be captured which can later be analysed. Wast of chunk of data which cannot be interpolated and related is of no use, and is a burden to the system. Information Technology has enabled easy capture of data. Instead of maintaining the records on books which are difficult to process, IT equips doctors and statisticians to work on data and arrive at conclusions quickly and efficiently.
To capture these data, a system is designed based on the decision on what to collect. Then the tools are created that would capture them within a structure or a process around which are compliant to standards and regulation.
How is data collected?
For medical records, data collection systems have been ever evolving. In 1960's Dr. Larry Weed's 'Problem-Oriented Medical Record' slowly paved way to EMR (Electronic Medical Record) in the early 1970's. Despite being futuristic, it took practitioners almost a decade to start using EMR in the mid 1980's when PC's became popular and affordable. It was later accepted that the health of a person is not confined only to what is included in the medical records of modern medicine, reaffirming the concept propagated since the early days of Ayurveda.
Now we have the EHR (Electronic Health Record) systems which collects and stores details of a person's well being which includes his/her medical details, physical and psychological well being. EHR is the present and the near future of data collection and validation technique. Ayurveda hospitals, resorts and clinics need to adapt EHR to capture their treatment, techniques and medications into a standard format that would help in validation. While there are many EHR providers in the market, not every software is catered to the needs of Ayurveda.
AyushEHR
A product from HealtheLife, AyushEHR is one of the best EHR software for Ayurveda. Using AyushEHR, one can unify the Clinical Data, Facility Management, Activity Planning, Staff Management along with Reports and Live Dashboard in an easy-to-use online software.
The data capture in AyushEHR is as per the Indian EHR standards & robust and can help in the validation of Ayurveda as well as in the NABH accreditation of Ayurveda Hospitals and Resorts. With Ayurveda specific reusable clinical modules integrated with SNOMED CT and aligned to the Indian EHR standards, it will enable validation of Ayurveda treatments and medication bringing Ayurveda to the 21st century.
To know more about AyushEHR, write to ayushehr@healthelife.in
Resources: