More AYUSH coverage in Ayushman Bharat proposed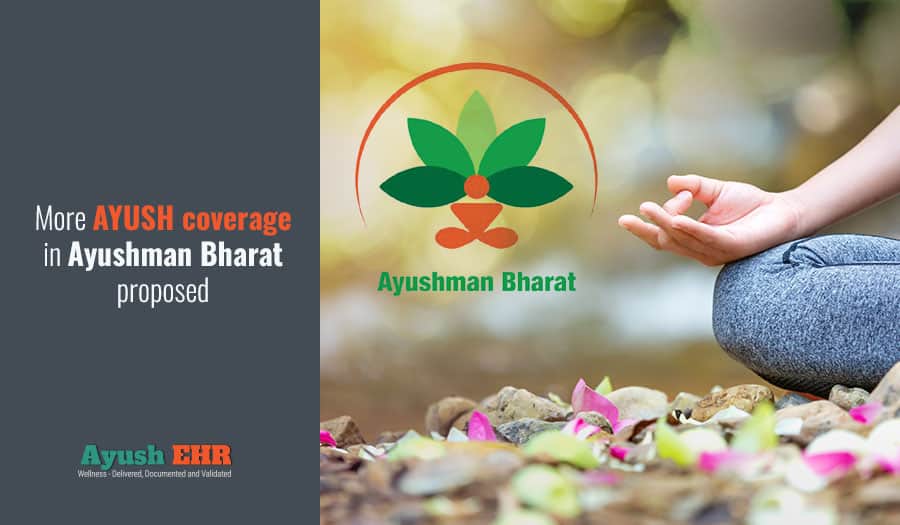 Ayushman Bharat that was launched in 2017, under the National Health Program has been positively impacting a large number of lives since then. As per official statements, almost 3 million people have already benefited from the program till June 2019. There is no doubt that the scheme brought about significant changes in the healthcare industry and is expected to benefit the needy in the future. However, AYUSH coverage in Ayushman Bharat has been extremely limited so far.
This is about to change with the September 24, 2019 proposal from the AYUSH ministry to the government for the implementation of initiatives in this direction. This proposal would create innovative opportunities for AYUSH treatment and medicine and help it flourish. Below we will review some of these to help AYUSH practitioners take advantage of this emerging opportunity.
Proposal for AYUSH coverage in Ayushman Bharat?
Recently, the AYUSH ministry has proposed a new set of procedures for inclusion in the Pradhan Mantri Jan Arogya Yojana (PM-JAY). The Minister of State for AYUSH, Shripad Yesso Naik stated that "A proposal for inclusion of 19 AYUSH packages has been finalized and submitted to the National Health Authority,". It is to include AYUSH treatment packages in the cashless insurance scheme and also set up strict guidelines to make AYUSH treatments a part of the health insurance structure. It is also proposed that NABH accreditation be used to empanel AYUSH practices into the scheme.
Why is it important?
These 19 procedures might be the beginning of a huge transformation that is expected to change the face of Ayurveda. The AYUSH ministry has been working tirelessly to standardize different aspects of AYUSH treatments to make them transparent and supported by validated evidence. This is expected to help enhance AYUSH treatment coverage in Ayushman Bharat. Miss Naik also said that "funds worth ₹ 325 crore have been released to states for activities under National Ayush Mission (NAM)".
All these are aimed at mainstreaming AYUSH practices towards the stated goal of preventive care in the National Health Policy 2017. Adoption of technology and proactive documentation of treatment will be something that the practitioners can do to make this happen.
How was this done?
The Ministry has come up with great news in a very short period of time and according to them, Central Research Councils of Ayurveda, Unani and Siddha worked day and night to validate 110 procedures for 60 conditions. Along with all these, a comprehensive research was also conducted to find a cure for Dengue and carry on observational practices to eradicate breast cancer with All India Institute of Medical Sciences. The ministry has also encouraged research on medicinal plants and marked an area in Jammu and Kashmir for the research and analysis of Institute for High Altitude Medicinal Plants (IHAMP).
In all the above initiatives, the main problem was the lack of filed data from practitioners due to the low adoption of technology. With better data availability, more could be achieved at a faster pace.
What can we do to help improve AYUSH coverage in Ayushman Bharat
With all such initiatives, people have gradually started recognizing and accepting the 3000 years old process of healing once again. The ministry says it will make sure that AYUSH i.e Ayurveda, Yoga, Unani, Siddha and Homeopathy will see improved relevance across the country.
We at AyushEHR believe the same and are doing our best to help bring technology to help AYUSH claim it's rightful place in the emerging wellness focused care paradigm envisaged in Healthcare 3.0. By adopting solutions such as AyushEHR, practitioners of this science can help bring great transformation in their area of work.
Call us on +91 63609 97311