Full insurance cover for AYUSH treatments in Arogya Sanjeevani, a boost traditional medicine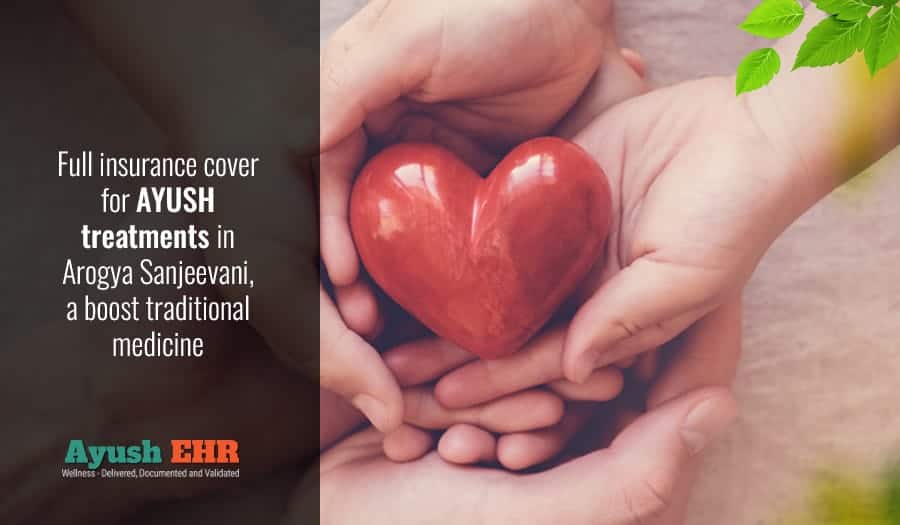 The new standard health insurance policy mandated by IRDAI, Arogya Sanjeevani, which is available from 1 April 2020 provides insurance coverage for AYUSH treatments to the full sum insured. This first time initiative is expected to boost the prospects for traditional Indian medicine, by making it more attractive to people.
This policy to be offered by all insurance companies provides a basic health cover of between Rs 1 lakh and Rs 5 lakh. This new policy has been introduced to help the consumers cut through the clutter and confusion created by multiple products with different features that insurance companies have launched. IRDAI has banned insurance companies from imposing deductibles or offering riders and variants with it to maintain uniformity. The policy holder gets a 5% increase in cover for each claim free year subject to a maximum of 50% of the sum assured.
As per the Economic Survey 2019, the average retail healthcare inflation in India has risen sharply from 4.39% in 2017-18 to 7.14% in 2018-19. The survey also points out that out of our 130 crore population, only 4.2 crore have retail health policies. We expect the new policy to improve affordability and increase insurance coverage. The inclusion of AYUSH treatments in the coverage is bound to attract a large number of people from rural India.
This is a continuation of policy initiatives from the government aimed at achieving Universal Health Coverage(UHC) by 2030. In 2018, the Ayushman Bharat Pradhan Mantri Jan Arogya Yojana was introduced, with the intention of providing free health coverage to the bottom 40% of the population. In 2019, Arogya Sanjeevani, a low-cost product with a nominal cover and attractive features has been mandated by IRDAI.
As per the experts in the field, the main reasons that has kept the coverage of health insurance low has been the complexity in the health insurance products, high premiums, obscure terms and conditions in the fine print and the lack of accessibility to the included health cover. With 29 general and health insurance companies authorized to market the product, Arogya Sanjeevani has been designed to take care of many of these hurdles.
What does Arogya Sanjeevani offer to the policy holder
Arogya Sanjeevani is a basic health plan that offers a coverage of Rs 1-5 lakh for one year, for a projected annual premium from Rs 4,000 to Rs 7,500. It is available as an individual or a family floater plan, covering spouse, children, parents and parents-in-law.
The coverage, inclusions, exclusions, as well as the terms and conditions of the policy, remain the same across all insurers. The premiums vary from provider to provider and are at the discretion of the providers. One of the key differentiators of the policy is that the full coverage amount can be used for AYUSH treatments as well in addition to modern medicine.
How the availability of insurance cover will help AYUSH providers?
As large parts of rural India do not have access to modern healthcare, AYUSH continues to be the healthcare of choice for large populations. The policy makers have also recognized the fact that the only way India is going to achieve UHC is through an integrative healthcare system in which AYUSH plays a prominent role. With the National Health Policy 2017 advocating a wellness focused, preventive care paradigm for the country, the role of AYUSH in realizing it's goals has been laid out clearly in the document.
Despite all of the above factors working in its favour, AYUSH has not got the boost that it requires to start contributing more. One of the major reasons has been the reluctance of health insurance companies from offering coverage to AYUSH on par with modern medicine. This prevented AYUSH practices from being benefited by the insurance driven growth of healthcare services. This is set to change with Arogya Sanjeevani and AYUSH providers can start building large insurance driven healthcare businesses, just like what modern medicine has done in the last 15-20 years.
What AYUSH providers have to do to address this new opportunity
Offering insurance driven healthcare services is very different from the predominantly cash based business in AYUSH. In a cash based business where the beneficiary pays for the service directly, only the trust between provider and consumer is required. However in an insurance driven market, where the payer and beneficiary are separated, things are more complex. Such a market requires total transparency and a very high level of documentation that needs to be shared between the parties involved (AYUSH provider, patient, TPA & Insurance company).
Many of the AYUSH providers, currently, are weak in clinical documentation. Even where it is done, it is paper based, non standards and not in a format that can be easily shared. If AYUSH providers are to take advantage of this opportunity and benefit, they have to implement modern technology solutions that enable gathering, management and sharing of standards compliant clinical documentation for claims processing and settlement.
We have built AyushEHR to help AYUSH providers address this specific problem with our standards compliant EHR solutions for AYUSH. With AyushEHR, you can document all your patient data electronically and as per the Indian EHR standards. Since we are cloud based, this can also be shared with others easily. By implementing AyushEHR, you would have taken one big step towards benefiting and growing from the insurance business that Arogya Sanjeevani will create.
Call us on +91 63609 97311