How can you get new customers & retain the existing using patient centered processes?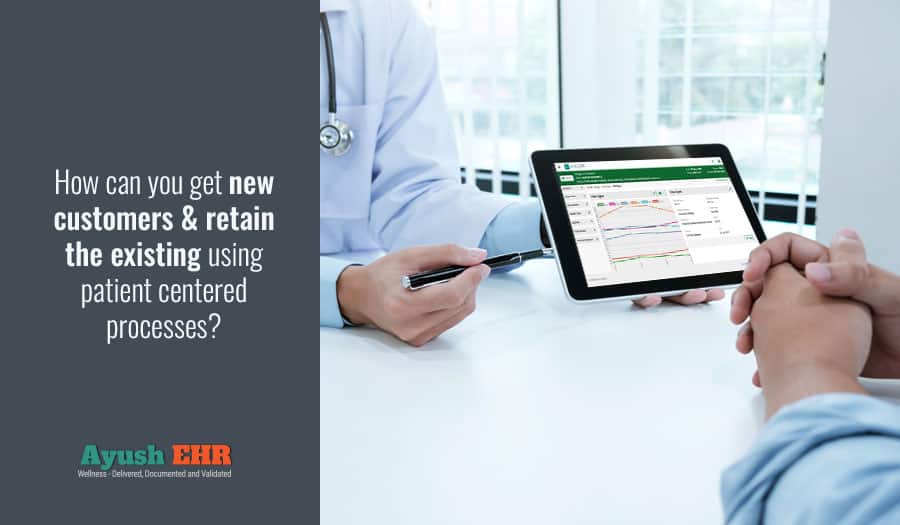 Ayurveda is gaining worldwide recognition for its holistic preventive therapy. Going forward getting new & retaining existing customers will be the key to creating a sustainable care organization. Preventive therapy a lifelong process and require periodic treatments across the life of a person. In fact, many well known persons like Prince Charles and Camilla Parker-Bowles, Duchess of Cornwall take such holistic treatment at Ayurveda wellness center at regular intervals.
So how are these wellness centers or Ayurveda resorts modelling their patient approach to retain guests? Can you also learn from them to enhance your customer base and turn them into repeat visitors? The answer lies in a mix of professionalism, compassion, knowledge & personalized service. In this age of high employee attrition depending on the traditional people dependent process may not deliver the required impact. Organizations have to leverage modern cloud based technology tools to make their customers feel important and want to come back. Below we have collected some points to help organizations embrace a patient-centric approach.
Way to get new & retain existing customers
Technology is synonymous with automation tools that improve the quality of healthcare services. Innovative technology can make a big impact is in administrative duties and paperwork in healthcare practice. Thanks to technology like EHR (Electronic Health Record), today resorts can leverage the digital health records to make informed decisions based on accurate data and precise methodology. In fact more and more ML/AI technology tools are being built to help provide the best care.
A quick turnaround & continuity of treatments across visits is one of the primary reasons why patients remain loyal to a healthcare establishment. Products like AyushEHR are simplifying healthcare business management by bringing in transparency and efficiency, ensuring the best personalized services.
Personalized treatments to attract new customers
The right treatment is not only about health assistance at the surface level. It covers preventive measures to the right diet and exercise choices. Food preparations, specific to the patient enriches their experience at the resort and help reinforce the positive impact of the overall treatment.
Continuous engagement & support including exclusive exercise plans, as well as diet charts, also shows integrity and willingness to go the extra mile for the patient's comfort. This is especially helpful in building up the reinforcement for patient experience. Technology tools, like AyushEHR, again play a big role in managing information and sustaining this with minimal impact to the operational cost.
Information transparency that builds trust & retain existing customers
Ayurveda resorts are generally seen as places for a short rejuvenation visit and not as long term health management facilities. As such many of them operate with minimal information gathering and transparency in their practices. Ayurveda centers should become transparent in treatments and communicating it with their patients to help them build better trust.
EHR systems that can support the full patient visit cycle including clinical information, treatment planning, resource planning and operational reports can be used by organizations to achieve this.
Conclusion
Given the high people cost, technology is the only way to manage the flow of information & communication. Automation will not only cut down the time and resources required in keeping a track of the business management but also maintain information accuracy as well. Therefore, the right mix of technology, vision and personalized care is perfect to create a proper customer experience which will invariably, help to get new & retain existing customers.
Call us on +91 63609 97311