Challenges that the Ayurveda resorts face in the absence of Electronic Health Records(EHR)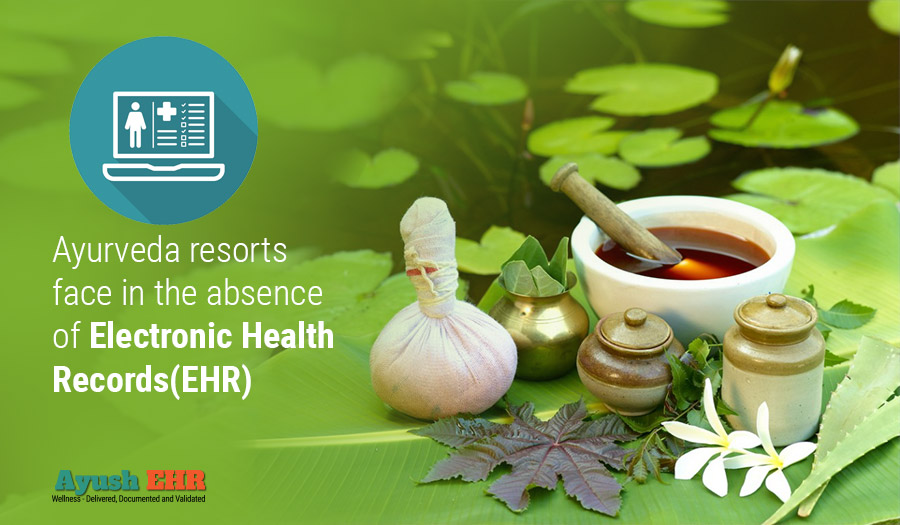 EHR is revolutionizing and transformed the medical industry across the world. It is helping the mainstream healthcare practices streamline their operations, improve efficiencies, reduce cost and achieve better outcomes.
It is a very powerful tool that can arm wellness practitioners create a paradigm shift in the way it impacts the society. As aspiring leader in this industry, Ayurveda resorts should adopt the EHR software to keep up with the swiftly changing times.
Let's take a look at are the challenges that the Ayurveda Resorts faces in the absence of EHR.
Repetitive & redundant diagnosis
Albert Einstein said, "Insanity is doing the same thing over and over again and expecting different results." During the lifespan of an individual, he/she may visit or consult various different doctors for specific concerns and it is impossible to keep a record of the tests they had undergone, without the help of EHR. In the absence of EHR, the Ayurveda Resorts would be every time, picking up at the start for each patient, causing a delay in treatment and medication.
Hinders Accuracy
The Ayurveda Resorts are responsible for their guests' health just like any other medical institution, but due to the lack of medical history, and incomplete data or medical reports, there are chances of involuntary mistakes by the medical practitioners. The lack of accurate information may lead to delay in analysing diseases or abnormalities.
Prescription of wrong medication or wellness routine
The Ayurvedic resorts would be dependent on a patients' say to advance their treatment. There is no evidence or factual information that is presented to the doctors and medical practitioners except the words of the patient. They would likely be taking a risk of prescribing wrong or incorrect treatments and routine changes to their patients, ultimately impacting the treatment outcomes adversely.
Inability to identify a pattern of response
A doctor treats its patients, by following a pattern or trend that represents the response that the individual made to various previously prescribed medicines or treatments. They analyse the symptoms of their patients and work accordingly, to achieve a positive result. However, an absence or partial presence of previous records promotes inefficiency and identification of the trail that should be followed as a remedy.
Inefficiencies and environmental impact
In the absence of EHR, the Ayurveda Resorts will invest in unnecessary a paper based information management of patients' clinical information. In the present state, where each person is contributing bit by bit, in their own way to improve the ecological balance of the planet, wasting paper would be nowhere sensible. Digitization (EHR) would limit or eliminate material, printing and delivery cost, further improving cost effectiveness.
Communication bottlenecks
An EHR is a viable way of communication among doctors, patients, clinicians, labs and the traditional way of prescriptions and reports fails to represent those appropriately. It causes communication restrains and inadvertent mistakes by the doctors.
Electronic Health Record is an essential tool for Ayurveda Industry, a tool that is exceptional in establishing and maintaining effective clinical workflow. It promotes better health care, patients' safety, efficiency, communication etc. EHR is a vital step forward in the direction of electronic exchange of health information, making work easy for the Ayurveda resorts in practicing improved Medical Management.