It's time for Ayurveda to ride the Tech Wave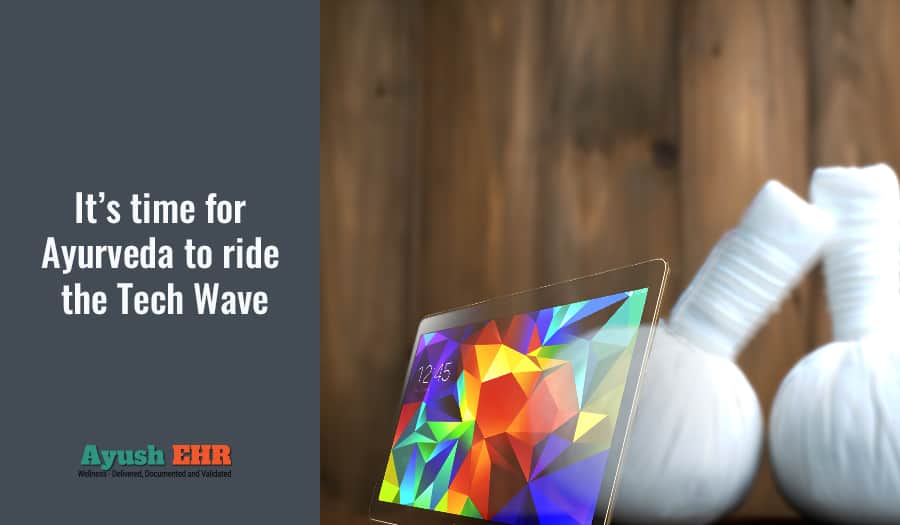 We all know how technology has brought the world closer and smaller. It has made our work easy, built mega structures, help build multi-million dollar companies, and has created some of the most groundbreaking softwares that has helped millions of people across the globe. But, all this would not have been possible if there was no acceptance and effective implementation of the tool by the community.
Tech Wave
Although technology and innovation are the instigators of change, they alone cannot accomplish anything. To get the most out of them we need to see how it can help us lead more productive lives. In India, the government is working hard to make us a cashless economy with the help of technology, by the means of Paytm, Tez and other online payment platforms. With everyone riding the cashless wave, documentation and retrieval of data becomes much easier and seamless, making financial transactions more transparent and secure.
Resistance to Change
As opposed to areas such as Banking, there are still many businesses that are resisting this change. They falsely believe that bringing in technology will impair their existing business and process. But when it comes to healthcare, there are even more skeptics. Due to the fundamental nature of this industry, there is more caution in trying new technologies due to the direct impact it has on the health and wellbeing of people. However, what is often overlooked is the fact that digitization and analysis of the data healthcare generates helps in building a community around shared knowledge. But the competition for profits and prestige among healthcare providers, often more pronounced than their care for the health of their patients, could stand in the way of progress.
Due to the special nature of this domain, while embracing technology, there are also few concerns that healthcare providers need to aware of:
Impersonal healthcare – Healthcare providers who lean too heavily on technology, don't spend enough time getting to know their patients personally. Instead, they spend their time interacting with the equipment. Because of this, they could end up missing a symptom that could indicate that something else is wrong in the primary diagnosis.
Increased costs – The past experience has shown that, as opposed to many other domains, as technology moves forward, the cost typically goes up in healthcare. This is especially true since almost all of the technology adoption has been aimed at offering solutions that have not been available before. Advances in medical technology can also lead to higher patient costs due to the amount of research and the money needed for marketing.
Invasion of Privacy – The medical history that is digitized and shared can include results of testing, any medications the patient is on, the billing information etc. This opens up the possibility for misuse, which can result in a loss of personal data as well as privacy.
Change is the only thing constant
However, looking at the way technology has changed lives all around, brought businesses and people closer, there are more positives than negatives. Cloud computing is probably the biggest innovation when it comes to the storage of data. This technology allows masses of information to be stored at a low cost, without the expense of additional servers. Cloud storage protects against the loss of sensitive data with strong backup and recovery services. Such technologies make the adoption of Electronic Health Records(EHR) economical even for very small organizations.
While big healthcare institutes are slowly accepting this change, smaller providers like Ayurvedic resorts are more resistant to accept and implement EHR. By adopting EHR, practitioners need not worry about the authenticity of their data, they in turn can help and support the medical industry by proving proper data to help validate the effectiveness of this stream of healthcare. We hope that with all our efforts, this community sees the various benefits that our software, AyushEHR provides and we hope that we can join hands in this endeavor.
References:
https://www.forbes.com/sites/gilpress/2015/09/14/improving-healthcare-with-data-analytics-technology-alone-isnt-the-answer/#36459d5b2d82
http://www.healthtechzone.com/topics/healthcare/articles/2018/07/19/438846-technology-healthcare-the-two-go-hand-in-hand.htm