Promoting Ayurveda – what should the community do with the recent Indo-US agreement?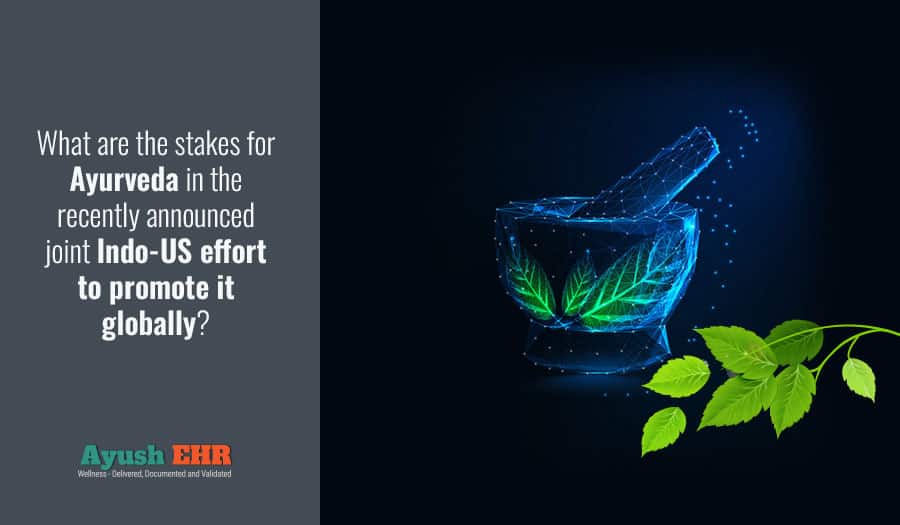 Under a recent Indo-US Bilateral trade deliberation, one area where both the countries shook hands over was on the subject of jointly promoting Ayurveda around the world. This agreement is expected to open new doors for the progress of Ayurveda, into the world of validated modern medicine.
The trade relations between India and the US are aiming new heights since the assistant US trade representative, Christopher Wilson visited India this July. Sanjay Chadha, the additional secretary of the Ministry of Commerce on an interview with the media, stated that both the countries have interest to expand the relations on the basis of trade and commerce. He also added, the countries "agreed to continue their discussions for achieving mutually beneficial outcomes aimed at further growing the economic relationship and addressing mutual trade concerns".
If we are able to leverage this great opportunity to make Ayurveda great again, it can take up it's deserving place on the pedestal along with western evidence based medical sciences.
Why should we work on promoting Ayurveda?
Though Ayurveda had reached the western part of the world years ago, it has always been treated as traditional practice and a pseudoscience, due to the lack of of extensive documented and validated effectiveness of it's treatments. In spite of being widely practiced, Ayurveda has never been accepted into the mainstream healthcare outside India. With paucity of records, documentation of healing and useful evidence that could support its claim to glory, it was considered a mere theory and a game of probability, especially in the western world that believes only in facts and figures.
Through this collaborative effort of the east and the west, we would not just provide our insights of Ayurveda treatments and healing to them, but in return can also learn the art of documenting and validating treatments more efficiently. Healthcare Information Technology(HIT) in general and EHR in particular are products of the western world that India is trying to adopt on a wide scale. But, India being a diverse country with a large population, it will take an enormous amount of work to make this happen. Here USA, as a companion of India in making Ayurveda great again, it can also help us solve these issues faster to create an EHR system that is compliant to all needs of the country in general.
How will this trade agreement benefit the Ayurveda Industry as a whole?
This collaboration could potentially make both ends of traditional and modern medicine meet. The AYUSH ministry has been setting the stage for the reviving and promoting Ayurveda through initiatives such as the establishment of colleges and universities for Ayurveda studies, setting up a project to create a standard terminology library for Ayurveda, creation of standards for validation by ISO etc. We should use this collaboration to build on these initiatives and help Ayurveda derive various other benefits from the practices of Modern medicine. Some of these are:
Access to a broader healthcare market
Better integration of merge of Ayurveda with modern technology
Growth in the pace of documentation, research and analysis
Unified global Ayurveda terminology as a SNOMED CT extension
Creation of standardized clinical models for Ayurveda leading to a standardized practice
Overcoming the pseudoscience tag and acceptance in to mainstream healthcare across the world
Improved treatment protocol and better outcomes
The mission of AyushEHR is to make Ayurveda great again. We work to change to the entire outlook of Ayurveda and this collaboration between India and the US seems like the first step to greater things ahead. We absolutely welcome this initiative at promoting Ayurveda and would love to contribute as much or as little to its success.
On our part, the global clinical terminology library, SNOMED CT, has been integrated into AyushEHR already. As soon as the Ayurveda extension, under development currently, is released, we will make it available in AyushEHR. We are also in the process of creating Ayurveda specific OpenEHR archetypes and templates to serve as reusable shared clinical models. We have also started working on an Ayurveda Drug Data Base(DDB), which will be available as a set of APIs for any Ayurveda EHR product to consume.