AyushEHR – The same ancient healing backed up with modern caregiving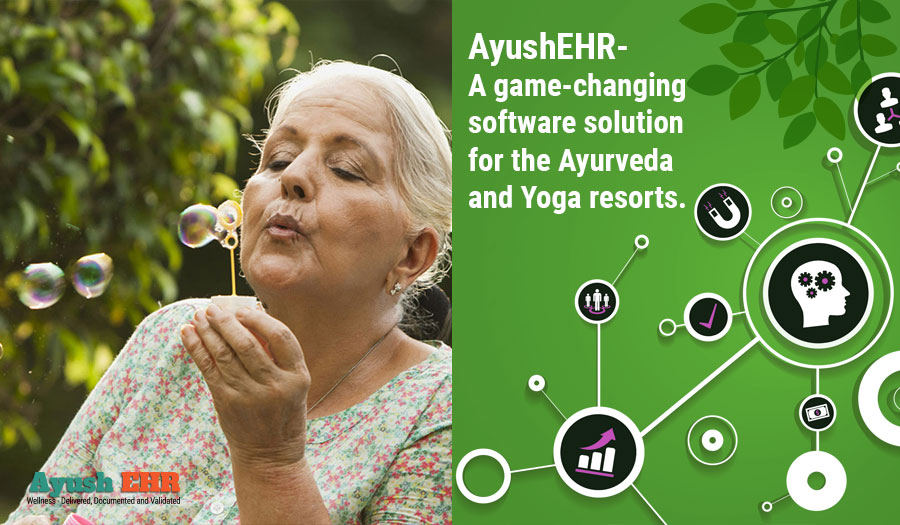 Healthcare has made applauding advancement over the years through adoption of technology and digital devices. There is a remarkable progress made by scientists and medical practitioners of modern medicine to improve outcomes in healthcare. Complimenting these advancements are traditional practices such as Ayurveda, an established treatment that is over 5000 years old and still practiced by licensed practitioners, that are easily accessible and affordable for the general population.
In the modern era, this traditional approach of medicine is encouraged and promoted by Ayurveda resorts and wellness clinics. Ayurveda resorts help patients heal by supporting them throughout their treatment. They prepare customised treatments for each patient, according to their kind of abnormality, severity and, urgency. Any medical institution needs to go through a patients' medical background and case history, before proceeding to come up to any conclusion or decisions. As ayurveda resorts are no different from hospitals or other medical institutions when it comes to providing care, even they need a patients' medical history in order to decide their treatment procedures.
However, these health institutions and Ayurvedic resorts face a lot of difficulties as they lack having previous clinical data of patients. Owing to their failure to maintain patient records including treatments, diet and exercise records, they have to diagnose patient based on the prescriptions which are less reliable and increases chances of medical errors.
EHR or Electronic Health Record is a modern revolutionary concept that makes record classification easy. EHR is now encouraged by the Indian government and in 2013 the government came up with the Indian EHR standards. According to the journal of Health affairs, there is a tremendous increase of 11% in adoption of EHR by medical clinics and ayurvedic resorts. AyushEHR is a cloud-based software that promotes capture and management of EHR easily leveraging cloud and Internet technology. No more difficulty in maintaining hefty files containing patient records or data. AyushEHR is an initiative to eliminate the difficulties and problems that the resorts and their guests face now.
What makes Ayush EHR different from other similar softwares, is the ability to share information received through a particular treatment or activity with the patients and other doctors. Continuous monitoring and immediate consultancy with doctors, and remote care can be provided through an updated EHR and review. Frequent follow-ups with feedbacks from the patients' can also be managed with ease.
A cloud-based software is the need of the hour.
AyushEHR reduces workload in managing the records of the patients and provides them with a smooth experience that is transparent, aligned with Indian EHR standards along with multi-location support. It is equally beneficial for the resort management and its guests and build up customer loyalty towards the resort and it's offerings.
The basic principle of any health organisation is to deliver their best and their only motive is to provide their guests a hale and hearty life ahead. AyushEHR checks all the boxes and not just helps your guests recover, but also gives a meaning to their precious life.