The first & only Ayurveda EHR software in NRCeS implementor's dashboard is AyushEHR.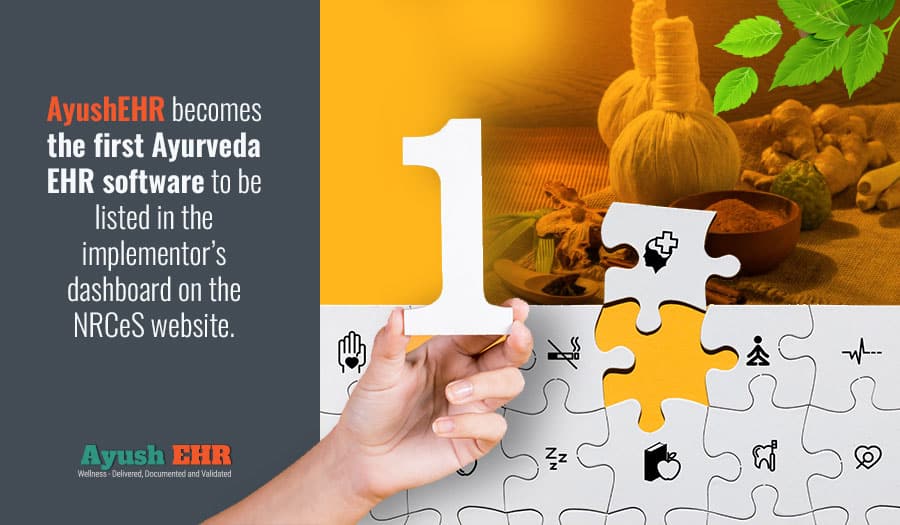 AyushEHR Resort has become the first EHR software for Ayurveda in this NRCeS's updated list of standards compliant EHR solutions.
After the release of the Indian EHR standards, the Ministry of Health and Family Welfare(MoHFW) established a centre of excellence known as National Resource Centre for EHR Standards (NRCeS). This centre is fully owned and funded by the government. It is responsible to boost the adoption of EHR and also to maintain standardization of EHR directives across the nation. Consequently, NRCeS maintains an updated list of standards compliant EHRs from India to spread awareness among healthcare providers. The intent of this list is to help them identify robust EHR software for their use.
This, we feel, is a recognition of our more than 3 years of hard work. It is sure to help for the Ayurveda community in their path to the adoption of modern technology. Thus, in choosing AyushEHR, Ayurveda practitoners can now be confident of getting the best in EHR technology.
Various technology and standards related services the NRCeS provides to the healthcare community
There are various services that the NRCeS provides. These services help accelerate and encourage Ayurvedic practitioners to adopt EHR in their daily operations. So, anybody wishing to implement a clinical application in their practice can avail of the following services NRCeS provides:
Education and training
Implementation and support
Tools and technology
Advisory and Consultation
National Releases of SNOMED CT
Liaison with SDOs
AyushEHR the EHR for Ayurveda
Built on EHR.Network, the standards compliant EHR platform from HealtheLife, AyushEHR is a set of applications for Ayurveda. It has been borne out of the recognizing the potential that the traditional approach of natural healing possesses. It includes a robust collection of software that enables delivering the best Ayurveda treatments while being extremely user friendly. With thorough research and numerous feedback from Ayurveda practitioners, the software has transformed into a seamless tool that covers every aspect of treatment and medicine.
The NRCeS website briefly lists the strength's of the software. Additionally, it abides by the Standards of EHR guidelines in India and the OECD privacy framework which makes it an ideal software for Ayurveda clinics, hospitals and resorts.
How AyushEHR can support Ayurveda practices
While the NRCeS website lists version 2.9.0 of AyushEHR Resort, the software continues to evolve, adding new functionality with every release. The current version(2.10.0) adds a lot of configuration options to personalize the software. IT also eliminates various security risks following OWASP guidelines on web application security. Currently the billing application is under development to compliment the Resort EHR software.
Even while the development is on, there are already tones of features that are already available and at a friendly subscription price.
Electronic health records(EHR)

Diagnosis & problems
Clinical examinations
Observations
Allergies & adverse reactions
Medications (e-prescribing)

Customer engagement
Treatment planning & execution
Internal notes & observations
Resource planning & optimization
Dashboards and reports
Why is an an Ayurveda focused EHR great news for traditional medicine?
Such initiatives helps build a narrative that Ayurveda is on a trajectory of modernization and is picking up momentum once more. Through these, the technology advantage of modern medicine is being challenged by the traditional practices, which are eager to stand shoulder to shoulder with it.
Increasingly such government programs and initiatives are empowering traditional healthcare practices with newer technologies like EHR. The great news is, the process that was stagnant for a long time has picked up pace. It is going to spread to the world by not just mere concepts but through validated evidence and published reports.
AyushEHR believes itself to be a mediator that would make Ayurveda available and acceptable to all, just like any other form of medicine and treatment.
Call us on +91 63609 97311