AyushEHR version 2.2.2 released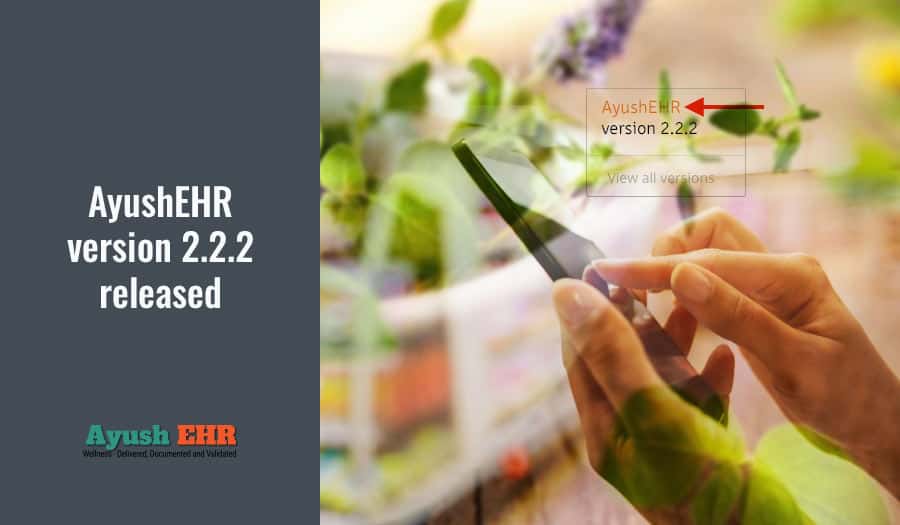 This release comes with 2+ weeks of major development effort and includes some key new features and tons of usability improvements. Most of the changes and additions have come out of live user experience and their valuable feedback. The attempt by the team has been to help users get their work done more easily.
The major new additions include the creation organization level registration ID for the persons and new Episode menu in the person space.
The registration ID format can be configured at the organization level including a static prefix, variable prefixes and start number. Once configured, the registration ID are auto-generated on creation of the person starting with the start number. This is a prerequisite for any resort preparing for NABH accreditation, as all documents should carry patient registration ID. With this AyushEHR has moved one more step closer to being NABH ready.
The new episode menu helps users view the past history of repeat guests. Users are now able to see the agenda for all previous visits to help them plan any ongoing or upcoming visits. We are sure this will be another great tool to make users love AyushEHR.
Release 2.2.2 includes too many enhancements and bug fixes for us to elaborate on each of them. However for the sake of new & prospective users, we will touch upon a few key ones.
Master agenda has got a lot better and friendlier with persistent slot selection setting, warnings of data loss from partially complete task creation/edit, intimation of recent change by other users, view last 10 changes & activity info on mouse-over.
All major reports now sport a date range selection option. Apart from all the tabular reports, these also include graphical reports such as geography, guest by age & guest by stay duration. Activity list export includes more fields and accuracy of reports have been validated. Staff report now sports activity status filter to get a count of staff participation for any status.
Another major enhancement concerns ensuring that all the mandatory details of the person are captured before checking them in. The mandatory list of details can be configured and managed by the organization. These can include details such as booking source and travel agency for internal reporting & analysis, passport/ID details required for regulatory compliance and emergency contact details for ensuring safety & security of the guests.
Other inclusions include enhanced user compliance by validating status of previous tasks before a staff can close any tasks, easy keyboard data entry, warnings of hidden data on print etc.
AyushEHR team hopes that we have been able to justify the trust that our user community has placed on us and thank all of you for your valuable feedback and inputs. Please keep them coming fast and furious to keep us challenged.