Can EHR help create Clnical Decision Support(CDS) that Ayurveda doctors' can use to predict outcomes based on patent data and deliver better care?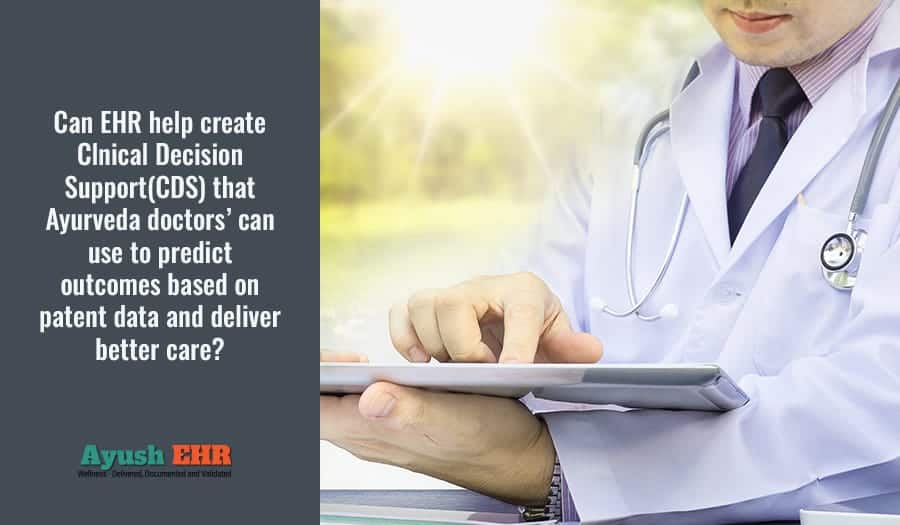 With recent developments in modern technology and healthcare services, the medical industry has prospered incredibly. The merging of AI and machine learning in healthcare has changed the paradigm of effective care delivery. Every country aims to achieve its macroeconomic goals and strive to bring happiness to it's citizens' and help in reach a high standard of living. For that, a country should promise to provide its citizens with complete health care.
Ayurveda, since it birth in India more than 3000 years ago, has expanded its reach and gained global recognition as an effective way to holistic cure. However, there are many challenges that Ayurveda still faces, the chief among them being the lack of continuous validation. Luckily for Ayurveda, the solution to eliminating this and other challenges has been provided by modern healthcare technology. Combining EHR with Ayurveda will add value to the entire ecosystem by documenting and validating the effectiveness of the centuries old Ayurveda care practices. Recent studies also indicate that EHR can help in multiple other ways to help Ayurveda practitioners.
How EHR helps in predicting outcomes?
Defining Electronic Health Record in simple language, it is a log that keeps a digital record of a person's health, similar to the more conventional paper-charts. Implementing EHR would not just keep a record of patient's data but also will help in verifying accuracy of data, security of information and interoperability. These essential information and details, helps in continuous and live tracking the health of patients and provide analysis about their response to treatments and drugs.
The prediction of a treatment outcome is called a prognostic assessment. It is used as a guide to take appropriate decisions for the best interest of the patient. The conventional statistical procedure of prognostic assessment requires experts who help in the selection of prognostic variables (based on an understanding of the disease), variable transformation & imputation and model optimisation on a per-condition basis. This complex process, when undertaken manually based on paper based records, would involve chances of glitches and errors in reading symptoms, an assortment of variables and error of judgment.
Prognostic assessment with the help of an EHR will help in consistent and accurate prediction of diseases. The records will also give an idea about the behavior or response of the patient throughout the documented period. Thus a medical practitioner can predict the association of chronic diseases to a variety of factors and use that in treatment planning. EHR documents and applies rule based processing of the medical history of a person to help doctors in making quick and timely decisions in case of an emergency.
Validation with prior prediction to Ayurveda
EHR has been a boon to medical science, as it is happening to Ayurveda also now. It not just helps to validate a 3000 year old process of natural holistic healing but it also helps the Ayurveda doctors predict life-threatening diseases that can be prevented with prior treatment and medication. Usually, Ayurveda treatments are known to heal an individual at a slow pace, it takes time to penetrate to the root of the disease and correct it. But a healthcare emergency does not give the luxury of time to the doctors and so EHR helps the medical practitioner understand the nature of the patient and take timely decisions.
AyushEHR is a software that helps the Ayurveda doctors in maintaining a healthy medical records and manage their profession. It offers both IP and newly launched OP module that helps in providing holistic medical care and validate the treatments. Contact us to know more.