How and why Resorts would need a separate platform for booking and EHR based clinical workflows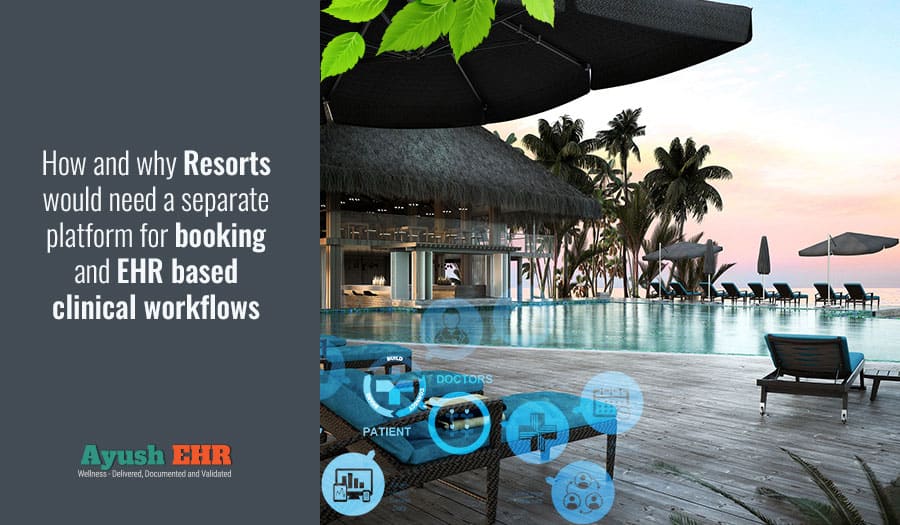 The news bulletin from the AYUSH Ministry states that the government has agreed upon strengthening the core of traditional medicine practice in the country. The next round of funding of Rs.1,686 crore has been released for the AYUSH Ministry on July 15, 2019. The government is also planning to open 4,200 new AYUSH Wellness centres by the end of Financial Year 2019-2020. This gives a lot of stress on improving the regulatory mechanism for AYUSH thereby propagating new researches and education in traditional medicine. In light of these initiatives, Ayurveda Practitioners must shift to digitizing their treatment and management of Ayurveda resorts. While doing this, they must realise the difference of this aspect of their business and understand that complicating one software with multiple features would make it complex and dilute it's core capabilities.
Why keeping booking and operations separate is a good option?
If you have a resort, apart from providing personalised care for your patients, you would also want to focus on components like booking, billing and pharmacy management. While you might want an Ayurveda software that could have all these components, it is currently not feasible to maintain a single software for all. AyushEHR is designed for managing the therapy process and focuses on providing personalised care for guests(patients) and help manage the resort resources. Booking softwares are designed assuming that the Resort operates like a Hotel and are designed around room management.
Integrating such diverse softwares or overlapping new features over the constructive build of AyushEHR would make it lose its true guest(patient) centric nature. Moreover, as these functionalities have very little overlap, it would be prudent to consider having separate software for booking and Electronic Health Record.
There are a large number of online booking systems that helps you keep a track of the advanced reservation of rooms from various websites. While AyushEHR is a software that is useful once the guest has arrived for check-in, to keep the resort staff, doctors and patients all in one loop. AyushEHR core is designed to support service management, billing and pharmacy, which we feel are required for a guest centric care process and will be available over the next couple of months.
Advantages of having a separate online booking system
Having 24 hours reservation– Online Booking systems gives wide visibility to the Resort an convenience for your guests. Guests can book a room from any online booking platform for specific days. Booking solutions maintain real time updated room inventory across all the platforms.
Simplification – Keeping the booking part separate simplifies the entire picture even for the marketing & sales team, without being exposed to the complexities of the more complex operation management software. The critical reservation procedure will remain streamlined and simple
Productivity– Having a separate software also helps in increasing the productivity of the front office staff. They don't need to invest their time manually taking phone calls and engage in reserving rooms and treatments.
Accessibility– A booking system has a single job assigned. It is much more accessible than trying to navigate through an integrated software. Your business development staff can easily be productive without much training.
How does this work?
AyushEHR provides personalised care to patients and pushing it to follow a different direction would be unfair for the objective that makes it unique to others. AyushEHR is a combination of EMR and PHR, so, it is suggested to retain its purpose. You can use a separate booking software that aligns with AyushEHR. Thus, only bookings confirmed on the booking system need to be entered in AyushEHR as treatment episodes. All the lost opportunities will remain outside the operational system without cluttering it. Once an episode is created for a guest in AyushEHR, their entire stay, related services and exit can be managed from AyushEHR. These details which are not important for room booking remains outside the booking system.
References:
Https://www.thehindu.com/news/national/more-funds-sought-for-ayush-ministry-in-rajya-sabha/article28449950.ece
https://www.moneycontrol.com/news/india/govt-to-open-4200-ayush-wellness-centres-in-fy19-20-4207691.html