How is EHR software based e-prescribing better than Manual Prescription for Ayurveda Doctors?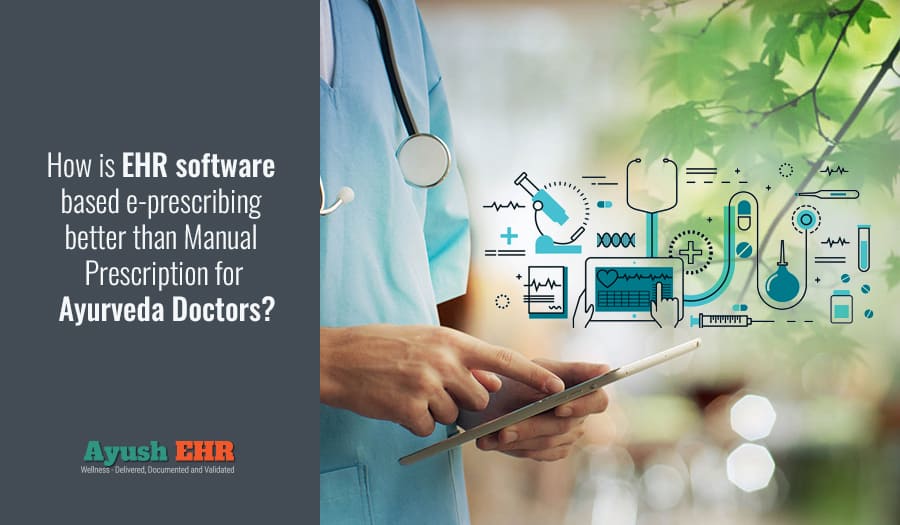 Electronic Health Record provides the ability to exchange healthcare data between different software. This creates an environment that is enabled to transfer high quality, systematic and secure data between different medical institutions and establishments, enhancing personalized care for an individual.
A patient should have the right over their clinical data. No medical organization can deny the fact that sharing healthcare information with patients boosts the affinity between patients and medical practitioners, whether its Ayurveda , Allopathy or Homeopathy. But, with manual prescription, this becomes difficult as it does not become part of the electronic records. It can in turn cause severe medical errors and oversight in treatment, thus endangering the patient's health & lives. EHR is an integrated clinical data tracker that makes things easy for the patients as well as for the doctors. Let's find out how EHR is better than manual prescriptions.
Why is EHR considered accountable to manage electronic prescribing?
There is a fair amount of research conducted that portray how favorable to delivering better care EHR is, throughout the world. Technological experts, government officials, medical practitioners and managers have all agreed upon the instrumental role of EHR in hospitals and clinics. But why? How is it different from any other manual data entry sheets or prescriptions?
EHR integrates components of electronic prescribing. Electronic Prescribing is a technologically enabled process that allows the medical practitioners or Ayurvedic doctors to create and share prescriptions to all stake holders electronically, rather than writing prescriptions to patients on papers. The process is safe and secure, accurate and avoids interpretation and comprehension problems.
Why is Electronic Prescribing preferred instead of manual prescribing?
Electronic Prescribing gives a uniform streamlined framework to integrate clinical vocabulary, terminology or coding system. The process is smooth and designed to reduce medication errors.
There is no third party involvement or conjecture that needs to be considered in the entire process. The entire operation is synchronized and process oriented. The clinical information remains within the domains of medical experts and the patient.
It is a patient centric process that is done in compliance with all the rules and regulations of the institution and as per the agreement of the patient. So there are no chances of information theft or forgery.
Reduced paperwork for the institution and doctors. It is an automated system that confirms to the EHR standards for India, from the Ministry of Health & Family Welfare (MoH&FW), first notified on September 2013.
Electronic prescribing is a component of EHR that is believed to create a great value for hospitals, resorts or clinics.
As per the National Health Policy 2017 & stake holders in the industry, Ayurveda resorts and hospitals are in dire need of validating their care evidence based on clinical data of patients. AyushEHR is one such software that provides electronic prescribing component for the Ayurvedic resorts. The software is designed in line with the healthcare policies of the Ministry of Health & Family Welfare.
The integrated SNOMED-CT terminology library module is constantly updated/reformed with additional elements, ensuring that they can be incorporated automatically in the software. AyushEHR is a software for Ayurveda that makes work easy for the doctors, staff and management at resorts and hospitals.
Resources: