Prediction of 'the best yet to come' in healthcare with the help of EHR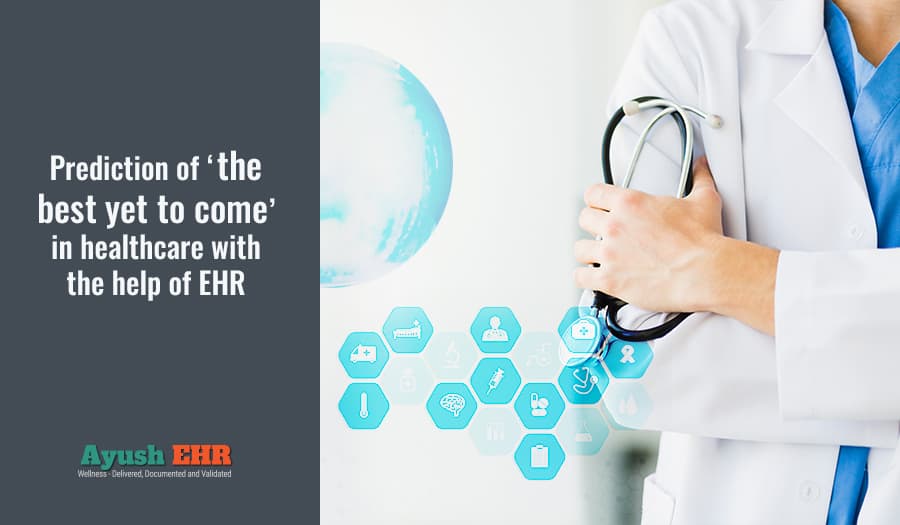 The journey of EHR version 1.0 has been fruitful so far. With the introduction of digital technology into the healthcare sector, the beginning of a whole new dimension has happened. However, there are predictions that the future has a lot more in store for EHR. According to the IT thinkers and policymakers, EHR wouldn't, or as rightfully said, shouldn't get restricted to being acknowledged as just digital workbooks or cloud based paper files. A giant leap must be taken to culminate the best that technology can and is getting ready provide.
Healthcare is a sector that experiences continuous scientific research and analysis, and so is technology. Healthcare combined with information technology has become a vital medium of enhancing the industry as a whole. Not just that, it also gives patients a right to their own medical information, thereby heralding a new era of enhanced transparency and trust.
What does the future look like with EHR?
Command and reach of Remote Medicine- The intertwining of EHR and tele-medicine might be the future that is waiting for the people. Presently the two are often standalone systems that can be interconnected but the coordination between the two will bring about relief for the patients and the doctors to provide care anytime, no matter where the patient is. It would serve a broader arena of individuals than the present.
Effective Powerful Partnerships- Partnerships are maintained to bring efficiency and results only in the best for everyone. However, it all depends on the balance that is maintained. EHR is expected to bring together powerful partnerships among institutions, doctors and patients. EHR systems will help incorporate clinical documentation from various areas of patient care into one database. This will allow an even greater collaboration among them or even enable participation of local or expert medical practitioners residing across the borders.
Feeding information through Fitness Trackers- Our smart watches or smartphones are our everyday companions. They specialize in tracking all day activity through monitoring your heart rate, blood pressure etc. and keeps your health first by acting as a Pedometer. Linking your fitness tracker with EHR can be extremely beneficial. It would feed health related information directly to your EHR monitor. It would be considered a reliable information provider that aids to accuracy in treatment and diagnosis.
Enable a National Health Database- The convenience of a national database can serve various purposes. It includes improved patient care through standardized and uniform access to entire patient history, no matter where that medical care has been provided to helping the government track on the mortality rate of the country. A pro actively monitored national EHR Database also is immensely helpful to prevent the spread of communicable diseases and epidemic.
Fosters Innovation- EHR vendors must use APIs that will help EHR become more open to innovators, researchers and patients. The public APIs and data standards should be transparent, well documented, consensus based, and openly available in a fair and non-discriminatory way. Encouraging scientific development and research around technology will add to the healthcare sector in the near future.
The major problems that practitioners come across today in EHR, is the use of complex ideas and solutions that are difficult to understand. Solving such problems requires regulatory stability, the development of an acceptable threshold 'barrier to entry' into the EHR marketplace, and a supportive national policy.
AyushEHR is trying to find an easy solution for such problems by introducing innovative-flexible solutions that are easy to adopt and future proof. Our solutions follow the best EHR practices and standards from across the world and at the same time provide simple and user friendly applications for the practitioners. Contact us to know more..