Upgrade your Ayurveda Clinic's Case Sheet to Digital Record with a cloud based Ayurveda EHR software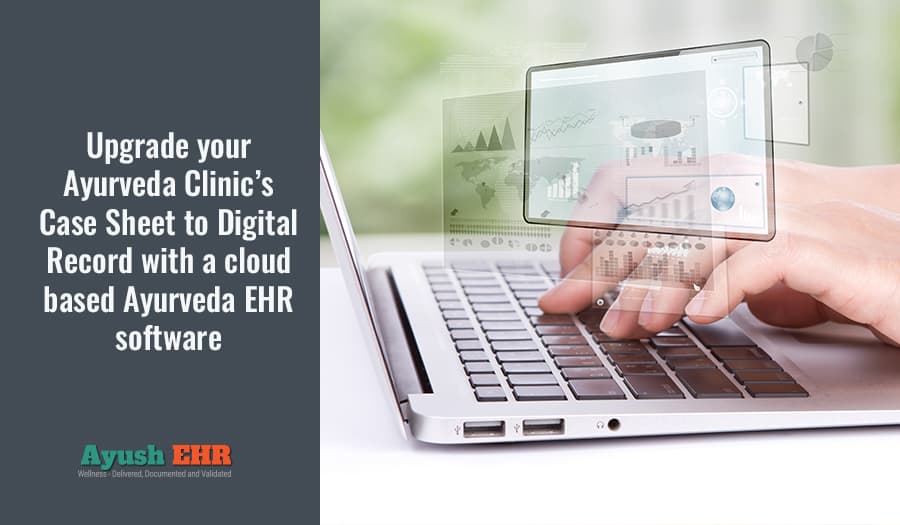 A physical, paper based case sheet for a typical Ayurveda consultation could be up to 30 pages. For every patient, the doctor is required to fill the case sheet to help the treatment and act as a reference or evidence in the future. Over the past couple of years, large proportion of Allopathy doctors have moved to the digital format for their OP sheet or Case sheet. This has seen their practice become modern and flourish as technology helps them make better decisions and improve transparency. We believe it's time Ayurveda practitioners also adopt the digital era of record keeping and be benefited in the same way. Additionally, it also gives them the tools to demonstrate the validity of their practice and gain more acceptance and financial returns.
The top 10 benefits that a digital case sheet can bring to an Ayurveda practice :
Role Based Access: Unlike a physical file which can be viewed by anyone in the office, digital case sheets can only be viewed and edited by authorised persons. The information that any person is allowed to create/view/edit or delete can be controlled based on their role and profession in the office. For example, while a doctor has full access, a nurse or a paramedical staff can't prescribe medicines, and hence those fields would remain disabled to them.
Conserve Physical Space: When physical files are maintained, it's space consuming. With time, the patient-count increases and the number of files overflows from those spaces. When stored in a digital format on the cloud, all it takes is a computer or laptop to access the data from anywhere.
Data Back up: Since the advent of this decade, cloud computing has been replacing the stand alone servers. Here the data is managed centrally by professional technicians and backed up. Incidentally even governments around the world are making it a part of their policy to store the health data in the cloud and in an interoperable format for ease of access and sharing.
No destruction with time: The possibilities of a file being damaged are limitless. Many factors such as aging and termites to an event of Force Majeure can render the physical files useless. When the case sheet is stored in a digital format, the chances of destruction with time are nullified.
Ease of Sharing: It's now very common for another doctor having to take a look at the case sheet of a patient. Many times, the method of sharing a physical file is cumbersome, error prone and hence the reluctance on part of many practitioners. Also the fear of details regarding the institution being shared is a major concern. By using an electronic file, such concerns can be negated. Only the required clinical data can be shared on a need basis and the access can be revoked once the need is over.
Standard Format: One major hindrance in interoperability is the format of data storage. When a standard format is adopted, even integration with other software and sharing data becomes easy. It would be possible to use a software for appointment and the data can be integrated with the EHR record etc. Even when a software migration is performed, having the data in the standard format makes it easy and quick.
Quick File Location and Information Retrieval: Arrangement of files in a file cabinet is critical for locating it easily. However minor human error and negligence can render locating a file difficult, if not impossible. N such cases, very often, it's assumed that the file is lost along with the past case sheets it contained. When stored digitally, the patient and their case sheets can be searched and retrieved in a jiffy. Using the many search options provided by modern software, any field in the file can be searched for. For example, to locate people in the age group of 35-40, unlike using a physical file, it's easy to search and locate when the file is stored digitally
Avoid Duplication of Records: One major challenge the health industry face is duplication of records. When a patient visits a hospital/clinic for the second time, instead of using the previous file, opening a new one is a duplication of record. By duplicating a record, the continuity of treatment is lost and the possibility of validation of treatment is also denied
Validation of Treatment: Probably the most important aspect of a digital OP sheet is to validate the treatment. By using clinical terminologies such as SNOMED CT the information is recorded consistently and according to standards. This helps in the treatment validation and demonstration of effectiveness
Decision support tools: Availability of coded data enables the creation of tools to support the practitioner in making clinical decisions and deliver better care. This in turn creates a cascading effect where the improved care delivery brings more patents and more data.
From the above points. It's clear that the present OP sheets in paper format will be 'thing of the past' soon. There is no system that's perfect. Even the storing of information in electronic format has its disadvantages such as vulnerable to hacking, data theft, data misuse, power black out etc. But technology is constantly evolving and maturing to address such concerns, whereas the paper based methods have largely remained unchanged over the past century.
Through various policies and legislatures, even the government is promoting the use of technology in health care. These policies aim to integrate all types of healthcare practices into the mainstream and create an integrative healthcare system for the nation. By upgrading your Ayurveda Clinics Case Sheet to Digital Record, become a part of the future and the pioneers of change.
Our AyushEHR OP enabled practices adopt modern technology, while being aligned to the evolving national policies and guidelines. While being simple to learn and use, AyushEHR OP provides a fully functional EHR for any size of practice. Please contact us to know more.
Resources: