Why adopting EHR in Ayurveda outpatient care is the need of the hour for it's continued growth?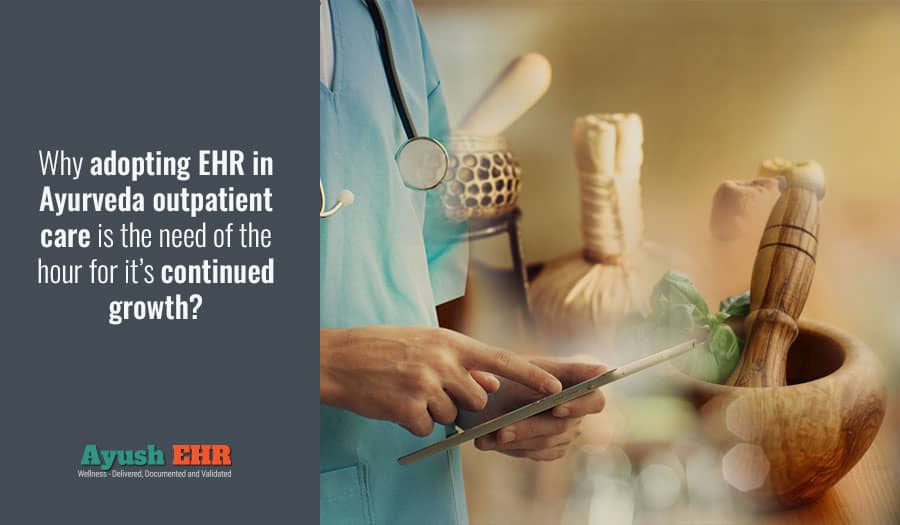 The formal adoption of Electronic Health Record(EHR) in Indian healthcare was kick started by the publication of the Indian EHR standards by the government in 2013. Subsequently, though the updated standard was published in 2016, the rate of adoption of EHR has been slow. The intention behind the introduction of EHR in India was to bring standardization, homogeneity and transparency. However, in spite of it's great benefits, the extend of adoption of EHR has been comparatively moderate and limited so far.
Given the need for proper planning and co-ordination with patient focus, the successful adoption has mostly been limited to inpatient care. But the reality is that the outpatient care forms a very important and critical part of any healthcare process and no EHR would be complete with out it.
Why is there an immediate need for upgrading Outpatient care services?
Outpatient or Ambulatory care is essential for immediate care giving. Despite the importance, only little has been done to upgrade the outpatient care services and there is a dire need for development and research in the field.
EHR is an essential component that could help improve the process of Ambulatory care. EHR has been shown to facilitate patient-centric care through the timely availability of information to help the provider. Proper tracking of outpatients' care information can help identify future life-threatening conditions and initiate preventive measures. Demographic data, care history, prescription data, laboratory results, vital signs, progress notes are all important and need to be recorded and managed for this. Also, the proper assembling of patient care information paves the way for clinical research and development.
What is the benefit of integrating EHR with Ayurveda Outpatient care?
Ayurveda is a holistic system of medicine. The combination of natural elements that help people heal. Whether inpatient or outpatient, Ayurveda, Allopathy and Homeopathy, all need validation to improve over time and gain trust of people. With continuous efforts, Allopathy has gained its place as a validated, widely accepted, modern and effective source of medical care. However, Ayurveda has been loosing ground and struggling to broaden it's appeal in the international community. Adoption of EHR can support Ayurveda and encourage evidence based clinical research. Its quest for greater glory could start with the adoption of EHR in it's care process so that standardized and technologically contemporary evidence gets built automatically.
Ayurveda outpatient care services are both curative and preventive, but they need to be re validated and evolved to remain contemporary. Any further delay would only further diminish it's presence, which could be catastrophic for the preventive care paradigm that India is aspiring to bring to it's citizens.
Challenges of integrating EHR with Ayurveda Outpatient services
Given the limited technology comfort of the Ayurveda community, integrating various software to manage your patient's data is not just unsafe but highly unreliable. Adopting software that are meant for Allopathic use to manage Ayurveda care is fraught with difficulties and incompatibilities. Patient care efficiency is the foremost priority that should be considered and relying on such software would only make work difficult for doctors and Ayurveda Practitioners. To deliver care, you as a practitioner need to be well -informed and comfortable with the EHR that you use. Even the slightest confusion can be counter productive for patient care.
AyushEHR, the total Ayurveda EHR software
AyushEHR is a cloud-based EHR software developed for exclusively for Ayurveda. It is designed with the aim of working towards upholding the greatness of Ayurveda and enable it to claim the respect that it deserves. We intend to work with you to gather substantial evidence to support validation and factual verification. AyushEHR hopes to empower Ayurveda to continue it's effort to serve your patients with utmost devotion.
By adopting AyushEHR, you could catapult your practice to match the advanced clinical information practices that the best of Allopathy practices employ. It will help you remain aligned to the evolving personal data privacy regulations and practices. Please contact us to know more.